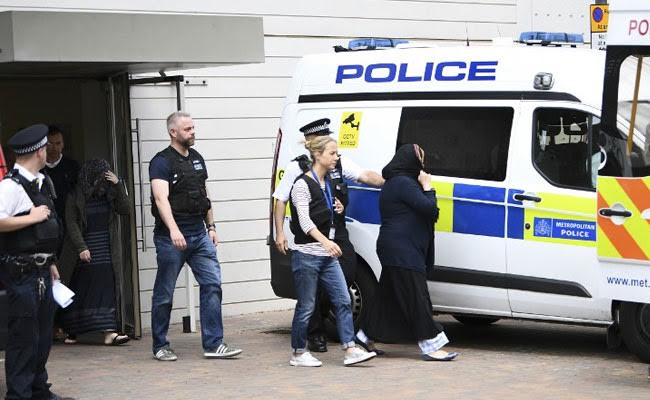 British Prime Minister Theresa May condemned the "evil ideology" behind the London terror attacks that left at least seven dead and more than 40 injured late Saturday night.
May addressed the attacks Sunday after a meeting of the government's COBRA emergency committee. She called for a tougher stance against extremists and tougher controls on cyberspace to prevent its use by extremists.
She said the measures were needed because "terrorism breeds terrorism" and attackers copy each other.
Her remarks came as counterterrorism police carried out raids in east London and arrested 12 people in connection with the attacks.
"Searches of a number of addresses in Barking are continuing," London Metro Police said at 1 p.m. Sunday local time.
The raids included a home belonging to one the three terrorists involved in the attacks, Sky News reported.
"He's lived here for about three years," neighbor Damien Pettit said. "He's one of our neighbors. I've said hello in passing more than 50, 60 occasions. He has two young kids. He was a very nice guy."
Saturday's horror began around 10 p.m. local time when a white van veered off the road and barreled into pedestrians on London Bridge. Three men jumped out of the van with large knives and attacked people at bars and restaurants in nearby Borough Market, police and witnesses said.
"I saw a van going on the pedestrian walkway," Brad Myers, an American vacationing in London who witnessed the London Bridge attack, said on "Fox & Friends" Sunday. Myers said he was taking pictures and was about to walk along the Thames River when he saw the commotion.
The assault was reminiscent of the truck attack in Nice, France, said Myers, who added: "I was always on alert that it could happen."
"It's crazy to think I was right there," he said.
Gerard Vowles, 47, told local media that he saw the three attackers stabbing a woman at the south end of London Bridge. He said he threw chairs, glasses and bottles at the attackers in a bid to stop them.
"They went 'this is for Allah' and then they just started stabbing her multiple times," he said, according to Sky News.
The Guardian quoted Vowles as saying, "They kept coming to try to stab me. They were stabbing everyone. Evil, evil people."
He added, according to the paper, "I want to know if this girl is still alive. I've been walking around for an hour and a half crying my eyes out. I don't know what to do."
Bartender Alex Martinez said he hid in a garbage bin for a half hour when a man stormed the restaurant where he worked, which was nearly full.
"I saw that man with a knife in his hand and after that a man started screaming so I knew something wrong was happening," he said.
Eight police officers killed the attackers within eight minutes of being called to the scene.
They were shot dead in a barrage of 50 bullets, London's assistant police commissioner Mark Rowley said Sunday, calling the number of shots fired unprecedented. One of the bullets struck an innocent bystander. The person was recovering.
Rowley said at a press briefing Sunday afternoon that the officers had no choice.
"The situation these officers were confronted with was critical – a matter of life and death – three armed men, wearing what appeared to be suicide belts, had already attacked and killed members of the public and had to be stopped immediately," he said.
It turned out the suicide belts were fake.
Rowley said the van had been rented recently by one of the attackers.
May said 48 people were treated in hospitals across London and many had life-threatening injuries. They included French and Spanish citizens. Thirty-six remained hospitalized Sunday.
A courageous cop was one of the wounded. He confronted the three knife-wielding terrorists armed only with a baton. He was stabbed in the face, head and a leg. He was in stable condition.
British Transport Police Chief Constable Paul Crowther said of the officer that "it became clear that he showed enormous courage in the face of danger."
Crowther added that "for an officer who only joined us less than two years ago, the bravery he showed was outstanding and makes me extremely proud."
May said the Thursday's national election would be held as scheduled. Major parties suspended national campaigning Sunday out of respect for the victims.
Speaking to Fox News from London, Secretary of Homeland Security John Kelly said the latest attacks mark the fourth or fifth time he's had to call his British counterpart in just four months on the job because of "terrible events like this."
It was the third terror attack to hit Britain in as many months.
In March, a British convert to Islam ran down people with a vehicle on Westminster Bridge, killing four, then stabbed a policeman to death outside Parliament.
On May 22, a British suicide bomber killed 22 people and injured dozens at an Ariana Grande concert in Manchester. After that attack, Britain's official threat level from terrorism was raised to "critical," meaning an attack may be imminent. Several days later it was lowered to "severe," meaning an attack is highly likely.
ISIS claimed responsibility for those two attacks.